'Yoga' Dating Sites*
Along with Yoga Passions (the site you are on now), the sites listed below all focus on connecting yoga loving singles with others who are also into yoga. The sites listed below range from those focused on Yoga Dating Sites to others focused on Yoga Chat. Each site, regardless of the company running it, shares many of the same characteristics as many of the other sites. So, if you are looking for a great dating site focused on yoga loving singles, then there are MANY here to choose from, so look around to find the one that seems like the best fit for you.
AD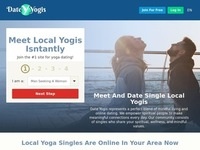 Date Yogis
Meet Local Yogis
"Local Yoga Singles Are Online In Your Area Now. If you're tired of inauthentic experiences with people who don't align with your core beliefs, join the most visited dating community created exclusively for yogis."

Yogi.Dating
Meet Yoga Lovers Now!
Searching for someone who you can practice yoga and have fun with? Yogi Dating's goal is to bring together yoga admirers together in one place. Join and find your yoga partner today!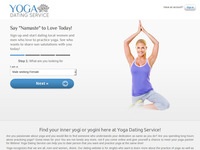 Yoga Dating Service
Start Dating Local Women And Local Men Who Love To Practice Yoga
Yoga Dating Service has been created specifically to connect yoga loving singles with one another. If you are looking for a deeper connection with someone, you may have a better chance by surrounding yourself with others who understand the spiritual aspects of yoga and who do not just view it as a variety of 'poses'. Join today and see if your soul mate is online!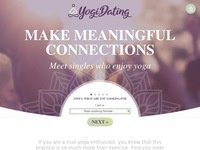 Yogi Dating
Make Meaningful Connections
If you are a true yoga enthusiast, you know that this practice is so much more than exercise. Find you inner yogi or yogini on Yogi Dating. As one of the premier yoga dating sites, you are more likely to find someone who shares your passion for yoga here than on a one-size-fits-all generic dating sites. Join today and begin meeting other yoga lovers just like you!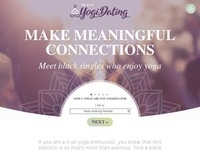 Black Yogi Dating
Meet Black Singles Who Enjoy Yoga
Black Yogi Dating is basically identical to the Yogi Dating site listed above, as evidenced by the (almost) identical homepage image. While yoga is an all inclusive activity that can be enjoyed by anyone regardless of who they are and regardless of who they love, this variation focuses on connecting yoga lovers who happen to be black. Since the sites listed here are dating-focused, this variation of Yogi Dating allows black singles who love yoga to find one another more easily.
AD

Yoga Chatroom
Roll Out Your Mat And Connect With Like-Minded Yoga Lovers
Yoga Chatroom has been designed for singles with a love of yoga. Whether you are new to it or experienced, you can find others online to chat with about yoga. Perhaps you will find someone fun to accompany you to a local yoga class. The first step is to register and after that, it is up to you.
*Sites listed on this page are a combination of ads, affiliate related Sites and general non-partnership related sites that match the theme of Yoga Passions.